Why do I need Amiibo cards?
You can invite any villager into your campsite! Especially for Happy Home Paradise (paid DLC), you can plan vacation homes for your favorite villagers UNLIMITED! Yes, you can make more than 100 vacation homes with Amiibo cards 😍
(The other thing you can do with amiibo is to summon them to vacation homes so that you can create better photos for your portfolio, much like how you can summon amiibo for Photopia. 😃)
How to Use NFC Card
Christmas SALE
The promotion coupons will be automatically applied in the cart. If they were not working, please use the promo codes below at Check Out page.
🌟 BUY 3+ and GET 15% OFF  :  15OFF
🎄 BUY 5+ and GET 20% OFF  :  20OFF
🎅 BUY 10+ and GET 30% OFF  :  30OFF
For 10+ items order, we will send an Extra Random Complimentary Card with your order.
About Us
We are located in Atlanta, GA, 🇺🇸. All of our orders are fulfilled and shipped out in USA in 1 business day with tracking number. If you have any question, please don't hesitate to let us know!
info@nfccardstore.com
Have you had a hard time finding your favorite villager on the mystery island?
We can bring your favorite villager to your campsite directly!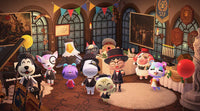 WHAT VILLAGERS ARE AVAILABLE?
All Amiibo villagers are available including Marshal , Merengue, Judy, Raymond, Shino, Ione and much much more! (Including Series 5 Cards!)
WILL THIS WORK FOR NEW HORIZONS?
YES! Its been tried and tested. Fully functional, and 100% guaranteed. 
Scan them in at Town Hall on your right joycon for 3 days and they will permanently move into your island
WHAT IF IT IS NOT WORKING?
DONT WORRY! We guarantee the FULL money back within 30days for any functional issues! Please buy with confidence!
My daughter was dying to get Kiki back after she lost her first island when her switch broke. After checking out several different sellers I decided to purchase from your site based on feedback from other buyers. We are well beyond satisfied with quality of your product, timeliness of delivery, and overall presentation with the adorable thank you card and bonus sticker. She was so happy to open that package today, thank you so much for bringing such joy to her gameplay.

Kieran Healey
Awesome Purchase

Bought Ketchup NFC card as a gift to give. Card received in less time then expected, tried and worked perfectly. Receiver was overjoyed. After villager hunting for Ketchup countless times and nook miles later, she has finally made a home on the receiver's island thanks to the NFC shop. Thank you, NFC Card Store! Will be purchasing for others in the future ❤

ValkyrieRose
Fantastic and Credible

Recently purchased from NFC, purchased two villager cards and a special card, all of which work perfectly, and arrived in a very short time. Gifted the villager cards to the recipient and they were overjoyed. Will be returning in the near future for more purchases and have recommended to like-minded people looking to surprise or grant that perfect villager for their villager hunters. 10/10 absolutely pleased.

ValkyrieRose